Main Content
Building Relationships One Home at a Time
Get To Know Christine Espinoza
Get To Know
Christine
Espinoza
Christine has been featured on the local ABC, NBC, CBS, and FOX News stations as their real estate expert numerous times over the past several years, as well as being published in Phoenix Business Journal, the Arizona Republic, Arizona Foothills Magazine, So Scottsdale, Modern Luxury and several other local publications.
Residential real estate is not just a passion, it's in the bloodline. After graduating from The University of Arizona, Christine secured her real estate license and began working with her father who has owned and operated real estate companies, since she was born, in Ohio and Arizona. Selling hundreds of homes in her first few years in the business, her experience is extensive!
Read More +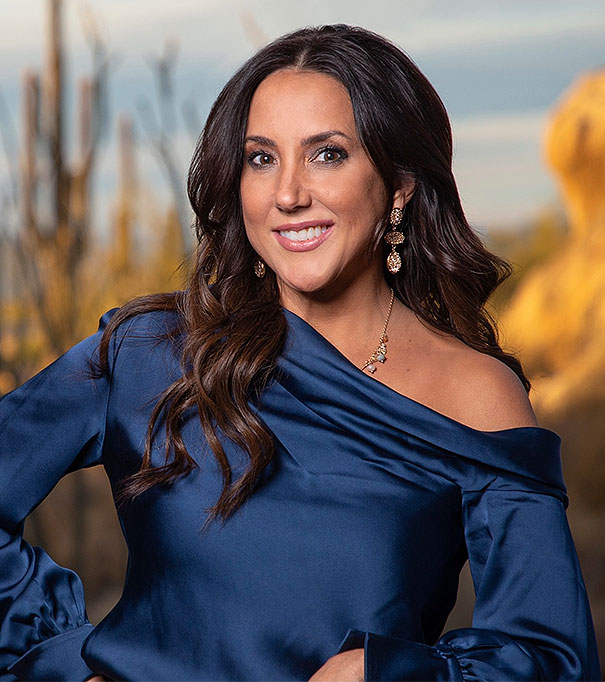 Client Testimonials
Christine Espinoza knows every facet of the reality business. She is on top of all MLS guidelines and she understands how market trends can influence home sales. We met Christine at an open house. She was doing such a wonderful job for the sellers, we asked if she would be our agent and help us find a home. It's taken two years, but Christine has been wonderfully patient and accommodating as we've flown back and forth from Chicago. Christine has gone well beyond what most agents would do in helping their clients find "the right home." But she always left us with the thought, "don't get discouraged, the right house is out there, we'll find it." Additionally Christine has a plethora of people to which she can refer one for any task that needs done. That makes moving across the nation a lot less stressful. Simply put, Christine Espinoza is an amazingly wonderful woman and agent.
Nmcclure
Christine's knowledge and expertise of the Scottsdale area was absolutely fantastic it made finding my property as a Canadian. Her attention to detail and professionalism made the purchase an absolute pleasure.
Marco Scorcia
Christine is amazing and has our highest recommendation. She has dedicated her life to serving clients with excellence and she knows every aspect of the real estate market, especially the Scottsdale area. Christine was EXTREMELY patient with us as we were very particular with what we were searching for and had wise counsel for us every step of the way. I hope you can enjoy the pleasure of working with Christine and experience how real estate agents can be professional, helpful, and a real asset to your real estate transactions.
Kimball Parker
We met with Christine to discuss possibly listing our home at a later date. She came prepared with current comps, knowledge of the local market (McDowell Mountain Ranch) and an energy and enthusiasm for real estate. Christine is not in real estate as a hobby; she is a true professional and has her finger on the pulse of the ever-changing market. Within a couple weeks of our initial meeting, she had brought a buyer to the table. We sold without having to go through the hassle of listing/showing our house, and she negotiated a possession date months after the closing so we are able to stay in the house until our desired departure date. We were very pleased with our selling price!! Exactly two months passed from our first meeting to the closing date; Christine quickly responded to any questions we had, and even helped us sell furniture to the buyers. Selling a home can be stressful, but Christine's experience and professionalism made the entire process go smoothly. We highly recommend her to anyone selling or buying a home.
Sold a Single Family home
Christine is a true professional who will negotiate total agreement between buyer & seller faster than I've ever encountered regardless of the complexities of the situation (ours was not at all straight-forward). She REALLY knows the market and finds more & better opportunities than 4 other realtors we worked with.
Ruty
New to Arizona and was looking for a new agent to help with the first home purchase here. What I was looking for, was someone who is professional, knowledgable, and a wealth of expertise. I found that with Christine Espinoza. In a very crowded field of agents from IG influencers to agents with one foot into retirement and everyone in between, I needed someone who I can do business with for the next several years who knows what they are doing. I was only looking at agents referred to me by my personal network. I had one conversation with Christine and I knew I did not need to speak to anyone else. I also received the guidance I was looking for as a buyer in an uber competitive market. There are strategies that I expect from an agent representing me and Christine delivered. I was able to get into contract and take a home off the market before their planned open house. Her counterpart Terry was fantastic to work with and very responsive to requests. She had very prompt communications which I greatly appreciated. My biggest pet peeve is when people are slow to respond. Never had any issues working with Christine and Terry. Great experience and I look forward to working with them again!
Bought a Single Family home
Christine is the most impressive agent I have ever worked with. In addition to being extremely efficient and professional, she also has extreme integrity around the process and sense of duty to her clients that is unlike anything I have seen. Anyone would be more than lucky to cross paths with Christine, on either side of the deal.
Andrew Kreisberg
We live out of state, so we had to make the most of house hunting when we were there. Our realator made it as painless as possible and picked some absolute winners for us while we were there! The buying process went extremely smooth as well. Now all we have to do is move in & enjoy! Thanks again it was a pleasure to work with you!
Beck With Roofing World
Christine was an excellent resource and real estate agent to work with. She is always extremely professional and communicative. After our initial consult, she hired her designer/consultant to come to my home to give me suggestions as to how to stage and tidy up in order to get it ready for showing. She knows the market up and down and what to do in order for it to sell fast. If you listen to her advice, your home will sell in record time. She's so excellent at marketing that I had an offer over asking price before it actually hit the MLS. Once it hit the MLS, I had 8 showings that same day with 4 full price or over asking price offers. I was signing a contract within 12 hours of listing. The process was seamless and she and her team made it so easy. Want to sell at top dollar and fast? Use Christine Espinoza!
Nicole Davidson
Awesome realtor with a great team. They were extremely available and responsive and above and beyond to make sure that the whole process was seamless. I would highly recommend their services.
Bought and sold a Single Family home